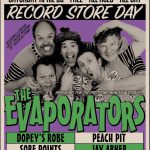 ---
PAST DATES:

Sunday September 29th – "Nard Gets A Star!" FREE & ALL AGES gig (12noon – Show at 1pm ) at the The Commodore Ballroom (868 Granville) in Vancouver, BC to celebrate my entry into the BC Entertainment Hall of Fame & a star on the BC Walk of Fame! Doors at featuring my band The Evaporators plus Nardwuar's Video Vault & a Nardwuar Meet n Greet! Doot doo!
The Evaporators in Toronto!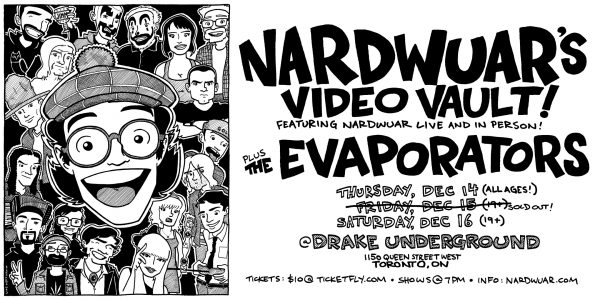 Dec 14/15/16 2017 – Drake Underground , Toronto, Ontario (1150 Queen Street West) ) w. Nardwuar's Video Vault! 3 Shows! (Dec 15 is SOLD OUT) One ALL AGES and two 19+ !  Tix $10 !   Facebook Event Page & Tickets HERE ! Show at 7pm .
Nardwuar the Human Serviette CiTR Radio Show 1987-2017 30 Year Anniversary Celebration!
Who: The Evaporators, Owl Empire plus Nardwuar's Video Vault !
When: Saturday September 23
Where: The Hall at 1739 Venables (Venables & Commercial)
Time: 7:01pm
Who: ALL AGES
Tix: $10 at Neptoon, Red Cat, and Zulu Records or Online HERE !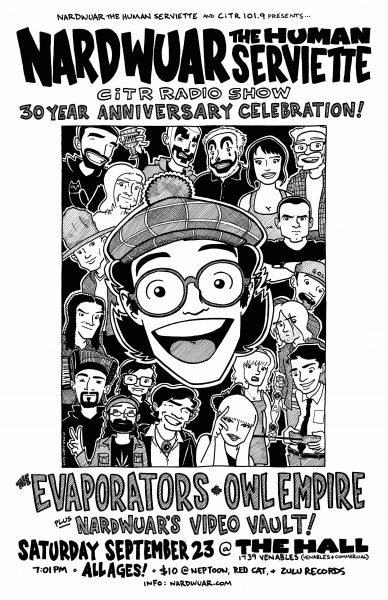 Saturday Sept 23 – Nardwuar CiTR Radio Show 30 Year (1987-2017) Celebration ! ALL AGES ! Hall (1739 Venables, Vancouver, BC) w/ Owl Empire and Nardwuar's Video Vault ! 10$ ! Doot doo !
Saturday July 1 – Canada Day at Grandview Park ( on Commercial St, Vancouver!) ALL AGES! Free ! Evaps on at 2pm!
Saturday April 22, 2017 – Record Store Day at Neptoon Records
( 3561 Main St, Vancouver, BC) ALL AGES ! Evaps on at 4pm !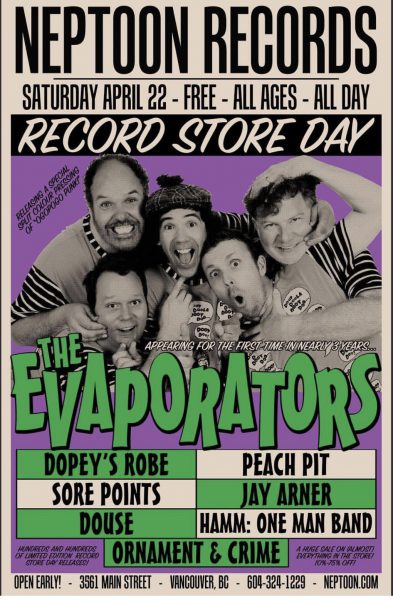 HELP!
If you can help out with shows for The Evaporators or Thee Goblins,please email Nardwuar at nardwuar@nardwuar.com
By Nardwuar on January 9, 2014
Jello Biafra joins Thee Goblins onstage at the Rickshaw Theatre in Vancouver, BC, Canada for a special Birthday performance! Songs: "Mario(Andrew) Cuomo Works at Domo," "Let's Lynch the Landlord," "Too Drunk To Fuck," "California Uber Alles," "Viva Las Vegas," & "Brainwashed." Special thanks to Clayton Holmes & Ani Kyd for the extra video footage plus Dave Carswell and HAMM for the bass and guitar action!
Posted in Live Music, Video Interviews | Tagged Jello Biafra, The Evaporators, Thee Goblins | Leave a response