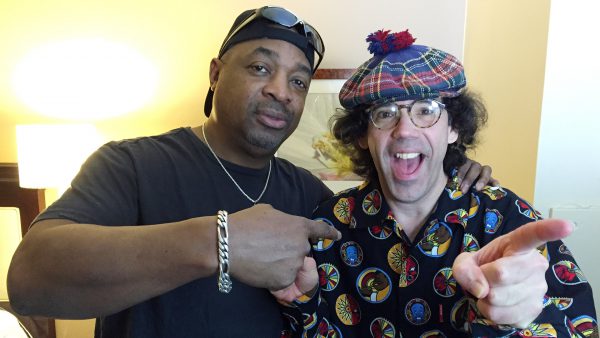 Nardwuar The Human Serviette vs Chuck D.
Nardwuar: Who are you?
Chuck D: My name is Chuck D and the name of my group is Public Enemy.
Nardwuar: Chuck D, welcome to South by Southwest in Austin, Texas.
Chuck D: Thank you.
Nardwuar: Right off the bat, Chuck, I have a gift for you.
Chuck D: Okay, thank you.
Nardwuar: Here it is right here.
Chuck D: I am not good at accepting gifts.
Nardwuar: What do we have right here?
[Nardwuar hands Chuck D a Blowfly Throbblehead]
Nardwuar: Is this Flavor? You know they've got a bunch of Flavors around. Aw, okay. Who's this?
Nardwuar: Clarence "motherfucking" Reid.
Chuck D: Oh yeah, Blowfly. Right, right, that's my man.
Nardwuar: And this is interesting because Blowfly's 'Rapp Dirty', that influenced 'Fight the Power'. How did that happen t?
Chuck D: Well, I mean, in 1980 we collected records, it was on the TK label which was known for a lot of different records in '77, '78, '79 and '80. 'Dance to the Drummer's Beat' was one of them. You know, so Blowfly had one of the first rap records with 'Blowfly Rapp' and they had a sequence in there where he came up with this sequence about the KKK and Muhammad Ali, and so that stuck with me.
Nardwuar: I wanted to ask you Chuck D about this particular record right here, 'Malcolm X' by Keith LeBlanc.
Chuck D: Doug Wimbish who was one of the founding members of Living Color and the house band for the Sugar Hill record label made this record and we played the heck out of it and highly influential to how Public Enemy made records. It actually used sampling before sampling was even known as sampling, they sampled Malcolm X's voiceover, the funky beat of Keith LeBlanc.
Nardwuar: And if you open it up there it's got an ad for a record pool, and I was curious, were you ever a part of this record pool? If you turn to the back here it says "record pool". Do you know what that is? What is that all about?
Chuck D: Well Dance Music Report wasn't really a record pool, what they did, they had DJs that recorded in the early 80's, it was Tommy Silverman and Monica Lynch's creation. They were around the whole New York City dance scene and rap was a component of it. So the rap records that they had were really rap records, but were also a combination of electronic music and Planet Rock was Afrika Bambaataa and Arthur Baker getting together. So, you know, Dance Music Report was actually their own trade rag, you know, which talked about music. It was way ahead of its time. From this you had the New Music Seminar.
Nardwuar: Very influential for the battles and stuff. And I wanted to ask you about this other 'Malcolm X' record, Chuck D, because you loved Malcolm X.
[Nardwuar hands Chuck D a Malcom X LP]
Chuck D: Yes, I heard about it. I never had this but it's Alan Douglas who also produced The Last Poets, probably figured on how to, you know, record one of his lectures and put it out as an album. As a matter of fact I have one of my lectures I'm putting out as an album maybe next month. I did a lecture at Eckerd College in St. Petersburg Florida and found it to be kind of relevant and on point to kind of emulate, you know, my heroes.
Nardwuar: Speaking of heroes, these guys, this guy, Herman Kelly, this is Foundation, isn't it?
[Nardwuar hands Chuck D a Herman Kelly LP]
Chuck D: That is why I talked about this earlier because this album actually, although was the original version on Electric Cat, Herman Kelly and Life, 'Dance to the Drummer's Beat', percussionists used on a lot of sessions, but also from the Electric Cat independent label. Another great pioneer who we just recently lost, Henry Stone, just passed away, from Florida.
Nardwuar: Blowfly's label boss.
Chuck D: Blowfly's label from that particular time. And then Henry Stone had the TK label which also did the single 'Dance to the Drummer's Beat'. They were very explosive as far as a label putting out 12 inches.
Nardwuar: I also wanted to ask you a little bit about Spoonie Gee. I love that Spoonie Gee speaks about 8-tracks.
[Nardwuar hands Chuck D a Spoonie Gee LP]
Chuck D: [singing] Dooh-dooh-dooh. One of the first records that we picked up in rap records, myself and Hank Shocklee, I heard this record walking down 125th Street in a cold December and it was an old busted speaker and amplifier playing a turntable with a record out on the street and myself and Hank were walking down the street and we heard this record being played from Paul Winley's office who also put out this record sound in New York, 'Spoonin' Rap'. Spoonie Gee was one of the pioneers. This came out not too long after the whole sensational phase of Sugar Hill Gang and before Curtis Blow, so it was right there in the middle and as a matter of fact at the same time that we bought this record 'Spoonin' Rap' we also bought a record by Willie Wood ,who was Woody Wood from Queens who had actually taken his whole style off of Hollywood, DJ Hollywood.
Nardwuar: Chuck D, quote: "I remember hip hop".
Chuck D: I remember hip-hop as being…
Nardwuar: "I remember hip-hop," Davy DMX.
[Nardwuar hands Chuck D a Davy DMX's LP]
Nardwuar: Right, right, yes. I remember.
Nardwuar: Who worked with Spoonie Gee.
Nardwuar: Who worked with Spoonie Gee and also Davy DMX is the bass player in Public Enemy now and a good great friend, he's a Hall of Famer of both sides, the Run DMC side and the Public Enemy side and there's no better human being heart-wise and contribution-wise than Davy DMX. Anything I could do for him I'd do for him. He's really one of the unspoken for legends of this genre.
Nardwuar: And on one of the coolest record labels, Tuff City.
Chuck D: That's a whole other story. I would tell you that Davy DMX, this record 'One for the Treble' is so instrumentally profound, it created a lot of records after it.
Nardwuar: And Davy DMX also worked with the important gentleman called Lovebug…
[Nardwuar hands Chuck D a Lovebug Starski LP]
Chuck D: That's right, Lovebug Starski, 'Positive Life' and he'd talk about DJ Hollywood and Lovebug. Starski was one of the main guys that seriously held a hip-hop event together, for you are talking about 3, 4 or 5 hours. So that's why when rap records first came out, it wasn't a miraculous fact that they were long, it was that they were compressed into a record from a 3-hour event.
Nardwuar: And this record begins with a sample of Wolfman Jack which is really influential to you. Did you listen to Wolfman Jack through bedsprings? [Laughs]
Chuck D: No. But yeah, that came from the fact that Wolfman Jack when he was at XERB 1090 AM , this transmission signal was set up in Mexico. It was so powerful that people used to be able to hear sounds on bedsprings on the other side of the border. But Wolfman Jack, remember he was the host of The Midnight Special on television, on the NBC networks, did radio, did, you know, mainstream hit radio. He, along with a lot of the black jocks, were influential not only to myself and others in hip hop in general, but just like they kept soul moving and very organic.
Nardwuar: Chuck D, what do you know about The White Boys?
[Nardwuar hands Chuck an LP by The White Boys]
Chuck D: Yes, The White Boys. I think they were from Florida. But, you know…
Nardwuar: Producer Todd Ray.
Chuck D: Todd Ray, yes, I remember when this came out. I thought it was interesting. They tried to actually do the Beastie Boy thing but the Beastie Boy thing already was very true to its core, a bunch of New Yorkers, so they could understand it and get it. I don't know where these guys were from.
Nardwuar: Carolina or something like that.
Chuck D: I don't know but…
Nardwuar: [reading the title of The White Boys LP] 'This Is Hardcore, Is It Not?'
Chuck D: Well too far ahead of its time [laughs]. Too far ahead of its time.
Nardwuar: It's so awesome Chuck, you cover Twisted Sister. You covered Twisted Sister. That's amazing!
Chuck D: They're from Long Island, that's that.
Nardwuar: That's it, period.
Chuck D: Dee Snider, I remember one time Dee Snider and I were in the same amusement park with our kids.
Nardwuar: Money and hip hop. Eddie Cheeba was making 2,000 a night in '75 DJ-ing?
Chuck D: I think he made 2,000 on some nights, yes.
Nardwuar: That's quite a lot back then, isn't it?
Chuck D: Yes. Definitely back then, especially back then you could do 5 or 6 gigs in the same night. So I could imagine when Cheeba was hot he was doing more than one gig in 2 or 3 different places.
Nardwuar: Winding up here, you did a song with Isaiah Thomas's son?
Chuck D: Yes, Zeke Thomas. He's good in the electric dance music scene. We did a song called 'Blackness' with Jasiri X from Pittsburgh.
Nardwuar: And Chuck D, how much booty is too much booty? And how much thug is too much thug?
Chuck D: When you can't control it: you can't control your thuggery and you can't control your booty.
Nardwuar: Chuck D, lastly, can you give a shout out to DJ Z-Trip and Brother Ali for helping to broker this interview?
Chuck D: For helping to broker this interview, my guys, my brethren, Brother Ali and Z-Trip, and other people that helped you track me down, peace, and I'm out.
Nardwuar: Thanks very much for your time, Chuck D, keep on rockin' in the free world and and doot doola doot doo…
Chuck D: Doot doot.